When involving yourself in physical activities, you burn calories. The more effective the activity, the more calories you burn. We should be conversant with the importance of weighted jump rope home workouts because it can help prevent excess weight and help fight diseases.
We tend to be too lazy to exercise sometimes, but we all need to get our body in shape. And using a heavy rope will only speed up the process.
Note: Before starting any workout session, we strongly recommend that you always consult your doctor or a qualified fitness coach to get detailed information on what tips to avoid.
TABLE OF CONTENT
Key Takeaway
One of the importance of using a heavy jump rope in your fitness workouts is that it can increase your metabolism. Weighted jump ropes offer both an aerobic and anaerobic workout strengthening your heart and toning your body. 
Lets proceed…
Well, we all want to keep a good and healthy body. However, we lack the time and dedication required to reach those body goals. For people like this, the jump rope home workout is a perfect fit.
A Healthy lifestyle is everyone's regular plan, however, if you do not have the time and dedication required to reach those body goals, try the jump rope home workout as it is a perfect fit.
As you are engaging yourself in weighted jump rope workout, patience and endurance is key. You are advised to take proper gym routine at home. Furthermore, weighted jump rope workout has so much benefits as it can help you burn calories and improve agility.
The positive news is that many different exercises at home will benefit your Health life. We all are aware of the importance of workouts, but do you know why you need a weighted jump rope home workout?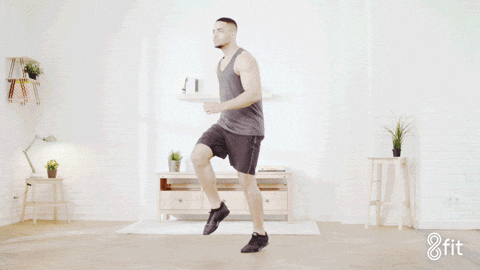 Benefits Of Weighted Jump Rope Home Workout
The benefit of using a weighted rope is that it improves strength and posture. Having a good posture and strength can help lessen or relieve chronic lower back pains over time. Value-added core strength is also linked to better functional fitness and overall personal fitness.
Listed below are the list of some of the benefits of weighted jump home workouts:
It improves heart health
it is also good for losing weight
posture improvement
burns excess belly fat
it strengthens the bone
coordinationimprovement
Heightens stamina and stops fatigue.
Numerous people delve into the manner of postponing working out because they are new to what they are on the verge of doing. The good news is, buying the best-weighted jump ropes for your home workouts can solve this problem.
Types of weighted jump rope home workouts
Here are the top 10 weighted jump rope home workouts listed below:
Basic jump: The basic jump is an easy exercise every beginner needs to know. It would be best if you learned this exercise first before moving to other exercises.
2. Alternate footstep jump: This type of exercise is one of the most used and effective jump rope exercises because it demands high intensity. It is best suitable for weight loss fitness challenges.
3. Boxer step jump: As the name implies, boxer step jump is actually a trademark for boxers. It is used for improving endurance and boosting cardio.
4. High kneels: High Kneels workout is for getting your heart rate up very quickly and for burning excess fat in the body.
5. Rope jacks: This is one of the easiest and fun to do workouts. It improves coordination.
6. Mummy kicks: The mummy kicks weighted jump rope exercise is for beginners because it is easy to do and learn.
7. Crisscross: This workout is not easy for beginners to learn. Hence, it requires mastering and patience.
8. Side swing: This type of exercise is easy to do. It gives you the ability to have breaks during a workout.
9. Side under jump: Side under jump workout looks challenging and difficult than it is. It is basically for pros, in other words, for those that have mastered the other types of jump rope workouts.
10. Half and full twist: This type of workout is just fun to do with good motion and rhythm before grabbing the rope.
Conclusion
From building so much endurance in finding balance and coordination, weighted jump rope home workouts help you lose weight and build muscles. Workouts demand time, which most people do not have due to work and other personal businesses. However, we must stretch ourselves by having diverse ways of exercising for health benefits.
Enjoy this Article? You May Also Like: