Working out helps maintain body balance and stature while keeping you healthy. However, this isn't the only reason people work out; some people work out to build big arms. The Thor Workout is one very effective way of building big arms. You only have to ensure you have the right Thor Workout routine to guide you.
Over time, the Chris Hemsworth Thor Workout has been the best workout routine for building big arms. Their routines are up to date and precise. Also, they're very much in line with other body workout exercises so you can look fit.
To follow up and learn everything you need to know about the Thor Workout, stay put and read on.
Key Takeaways
After going through the Thor Workout sessions judiciously, you're sure to build the arm size of your choice.
The Chris Hemsworth exercises are very precise and straight as they involve:
Military press.
Back squat.
General pull-ups.
All of these exercises have been arranged judiciously with instructions to help you build the arms of your dreams. 
The Chris Hemsworth Thor Workout Routine
The Thor Workout routine consists basically of 34 different exercises for five days and a bonus exercise. Furthermore, people who have thoroughly followed the rules of the workout have reviewed it and said it's the best there's.
Without further ado, let's quickly look at these exercises and how to go about them.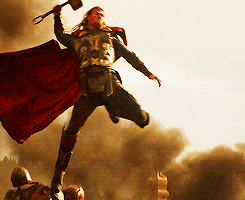 Day 1 Exercises
The day one exercise for the Thor Workout to build big arms is five in number. All these exercises carry their special importance attached to them.
They include:
general pull up.
General push-up.
Hammer strength two arm row.
Dumbbell Row.
Swiss ball hyperextension.
All these exercises are done with a focus to direct power to the shoulder muscles and back. Also, they help you build balance for the remaining of your Thor Workout sessions. The exercises that aid balance mainly are the swiss ball hypertension and the general pull-up.
Carrying out these exercises requires proper dedication and time to the session. However, note that eating just before the Chris Hemsworth Thor 4 workout exercises is a very bad idea.
Day 2 Exercises
Day two Thor Workout exercises are aimed towards the chest. These exercises build, repair, and prepare the chest to develop the arms.
The exercises under day two are:
Barbell bench press.
Warrior fit incline dumbbell bench press.
Hammer strength chest press.
Weighted dip.
Cable flye.
As the day 1 exercises have built your back, it'll be able to take the stress from the chest work. These chest building exercises mostly involve pulling on objects that retract with your hand akimbo. As a result, you're able to build a good pull force around your chest.
Day 3 Exercises
The day three exercises are directed to build power, agility, and balance. The Thor Workout exercises for day three are:
Back squat.
Leg press.
Bodyweight walking lunge.
Chris Hemsworth's God-like Thor Workout.
Single leg curl.
Standing calf raise.
In addition, you don't need any extra equipment for most of these exercises as they can be done on the ground. But for the back squat, you'll need a barbell squat rack and a box for the standing calf raise.
Day 4 Exercises
Day four exercises build the build and work on the shoulders. The Thor Workout exercises you do on day 4 make your shoulders able to bear weight.
This way, you have fewer chances of experiencing muscle pulls at your shoulder muscles.
Exercises for day four are:
Military press.
Arnold press.
Barbell shrug.
Dumbbell lateral raise.
Also, Dumbbell front raise.
Dumbbell rear delt flye.
For the shoulder workout exercises, materials such as dumbbells and barbells are used. Moreover, since the main aim of these exercises is to train the shoulders, most of them have to do with lifting.
You lift the dumbbells and barbells, and sometimes you do open-angle exercises with them. This is like you stand holding the dumbbells, then stretch your hands straightforward and open to the max, then repeat.
Day 5 Exercises
The day five exercises are directed to the arms directly. They build up the arm joints and muscles and help them get bigger.
These exercises include:
Barbell biceps curl.
Skull crusher.
EZ bar preacher curl.
Dumbbell lying triceps extension.
Dumbbell hammer curl.
Rope press down.
Barbell wrist curl.
Barbell reverse wrist curl.
This day's five exercises need the most dedication and seriousness. Besides, the Thor hammer workout exercises are done to help build the arms properly.
Bonus Exercises
General plank.
Hanging leg raise.
Side plank.
Toes to bar.
The Thor Workout exercises by Chris Hemsworth are very effective. That said, if you need tutorials on how to go about each one, just click here.
Conclusion
Gaining big arms through a workout is the best option compared to steroids. Fortunately, the Thor Workout exercises have proven that hard work can pay off.
Not only does your arm size increase, but this workout also helps you build your remaining body. In addition, it helps to stretch your tendons and strengthen your muscles.
What do you think about this article? Let's see your thoughts in the comments.
Enjoy this Article? You May Also Like:
#JustElevate Shorts (Gray)