Breaking world jump rope records may seem an impossible task to the average mind. However, to champions, it is a doable task that only requires excessive practice and determination.
Jump Rope, over the years, has witnessed a lot of groundbreaking records. In addition, many individuals have used this medium to land a spot on the Guinness book of records.
Key Takeaway
Jump roping is an excellent avenue to make a name for oneself. All it requires is fortitude, grit, determination, and hard work.
There are numerous spots available, some more challenging than others. Individuals from all age ranges are allowed to attempt to break a jump rope world record.
Jump Rope World Records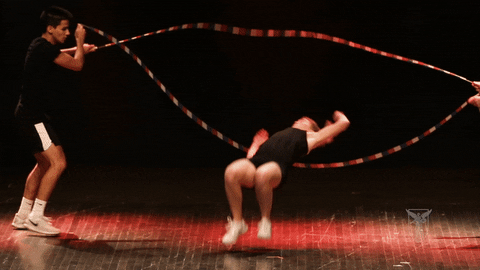 All of the slots mentioned here and many others are valid. However, they are still up for competition. Holding a world record is indeed an enviable position. For this reason, every jump roper is enthusiastic about winning a spot.
There are countless jump rope spots in the Guinness Book. However, for time conservation, we would be limiting this list to only the popular world jump rope records.
Longest Marathon Skips
In 2009, Joey Motsey shocked the entire world with his display of stamen and fortitude. The young fitness trainer reset the world record for jump rope without stopping at a charity event in Greensboro, North Carolina.
This marathon session lasted for a whopping 33 hours and 20 minutes! The world congratulated the man and praised him for his avid display of strength and compassion.
It turns out that he forwarded all the funds accrued from this to charity. This record is not the only title the American has worn for charity.
The highest number of Jump Rope Skips
The world's highest jump rope record was set by a young female named Sela Rosa Rega. She performed a total number of 168,394 skips in March of 2009.
She dedicated this win to herself and urged her fellow youth not to be scared to take on several challenges like she has done. Rega has two other Guinness titles to her name asides from this.
Fastest Skips in 30 seconds
This incredible position is split into two categories, one foot, and two feet.
Cen Xialion showed a stunning display when he smashed world jump rope records in 2019 by performing 228 skips on two feet in 30 seconds. Xiaolin is proof that age is not a barrier; the youngster has been setting jump rope records right from the age of 11. Xiaolin was 17 years old when he broke this record.
This young Chinese teenager also set the previous record. In addition, he undoubtedly has the fastest pair of feet in all of China.
Another young Asian named Rasel Islam holds the world record for the highest number of skips on one foot in 30 seconds. Islam set this record early in 2021, and it has remained undefeated to date.
Record for Longest Rope Skipped
The longest rope to ever be skipped on was 47.214 methods used. This record was created by three Japanese: Yu Okamoto, Norihisa Taguchi, and Sadatoshi Watanabe.
The Highest Number Of People On A Jump Rope
Jump rope is a sport for one, and it is a sport for all. 302 Japanese proved this to the world when they broke the jump rope world record for Most People Skipping on a Rope.
All 302 individuals were part of a Television crew, and they broke this record live on their TV show. They displayed a commendable level of cooperation and organization during this contest. However, their number of skips or the duration was not captured.
Youngest Jump Rope Champion
It pays to set your youngsters on the path of Jump rope stardom. Tori Boggs is proof of this. At the early age of 8, Boggs won the US National Champion Category; she was up against competitors from all age ranges.
At 13, she shocked the world again by winning the World Skipping Championship. Again, she topped contestants from several age ranges.
Now 29 years old, Boggs has founded several foundations to raise more Skipping stars like herself all across the globe. She is currently the captain of the USA team of Jump ropers and a skipping company named TORQ Ropes.
Conclusion
Luckily, all it takes to break world jump rope records is virtually grit and endless practice. Although you don't necessarily have to break championship records,  there are simple slots that you stand a bigger chance of winning.
The Guinness records for people of all age ranges, so it is never too early or too late to work towards breaking world records. The fun part is that you get to burn calories while at it.
What are your thoughts about this article? Will you like to attempt breaking the records? Which one surprised you the most? Please let us know in the comments below.
Enjoy this Article? You May Also Like: