Working out is a regular activity for many people. People have varied ways on how they want to stay fit and active. Going to the gym is always the most recommended course of action for those who want a more active workout regimen. In 2019, there were about 64 million members in fitness groups all around America. Let's take a look at how to turn your home into your gym.
On the other hand, many people are working out at home. However, creating a gym-like space in your house for your fitness activities might do the trick of giving a feeling of motivation to exercise and even satisfaction when you're done. Here's what you can do to make a gym out of your home.
Make Some Space
The space is the first thing you need to think about when making a workout room or spot in your house. Where do you want to put your little gym? You need to allot a particular area with enough space for working out and the equipment needed. Some of the things you need to consider for providing space in your gym area are your available space, storage, and the exercises you make.
Gym areas typically require a large amount of space, so the most optimal choice would be to take a spare room. Whether it's an extra bedroom, an empty garage, an attic, or a basement, any room could work. Even an outdoor area like your yard will do.
But what if you don't have a spare room? That's alright, although you have to share it with another room. You may take an area in a room with the most space and least hazardous or breakable objects. You could also not limit yourself to a room and have another gym area in another spot at your house.
In the end, no matter where you decide to put your home gym, the area has to be somewhere spacious and safe enough to do physical exercises.
Invest in Equipment
Another thing you need to do for a gym-like environment at home is having your standard gym equipment. While it may sound easy, there are a few factors you need to consider to know which equipment you can use for working out in your home. These are your needs, the space you have, and storage.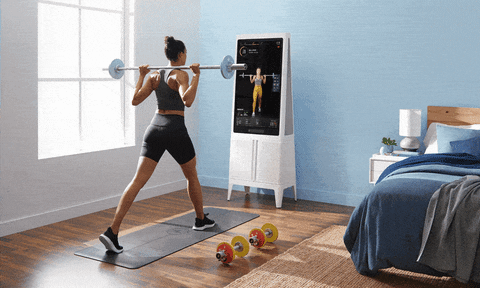 Needs
Be wise when choosing the equipment you need. You don't have to acquire all the gym equipment for your gym room. Only get what you need. In other words, you only need to get the equipment in line with your workout plan.
Think of it this way: what kind of workout do you do? What goal are you supposed to reach by doing it? And which apparatus or equipment do you need to make it happen? These questions may help narrow down what you need.
Space and Storage
While doing so, you also need to consider your gym area space and how you can store equipment if possible. You have to think of how much space would be occupied by the equipment you want to have, and if the remaining area will be enough for your physical activities.
Essentially, the equipment you need to have must be proportional to how wide your area is. This is especially significant for larger equipment. There is specific equipment (specifically cardio-related) that has a particular measurement for placement and use. Otherwise, you can estimate them. Jump ropes, in particular, may not take a lot of space on their own but occupy a lot when used.
If you have a more expansive space, you could install large equipment such as rowers or peloton. For smaller spaces, smaller equipment like dumbbells, jump ropes, and yoga mats are sufficient enough. This is where storage comes in. Large equipment can be stationed in one place, whereas smaller ones have to be appropriately kept after use.
Do Some Designing
Like all your other rooms in your home, you would also want to design your home gym. A room's atmosphere can make a big difference. In this case, you want to make your home gym inviting, motivating you to work out and not feel mentally worn at the end of it.
There are several things on how you can make a pleasant-looking workout room. One thing you could do is enhance the basic setup of your room, such as flooring, walls, or maybe even lighting. You can cover the floor with a carpet easy to move in, or you could do with a yoga mat. You could paint the walls white or any bright color that could liven you up.
Another design option is to further accessorize the room by having non-workout objects like mirrors to check how you look from time to time, or maybe a TV monitor for entertainment. You could also have a clock to help keep track of the time.
The main takeaway when you design is to try and personalize it as much as you can. Make it an essential part of your home gym, as well as something that's uniquely yours.
To Sum it Up
Having your very own gym at home gives a personalized feel of working out. You can turn any of your rooms into a mini gym. With ample space, a bit of equipment, and with a few of your preferences, working out might be so rewarding.
Enjoy this Article? You May Also Like: